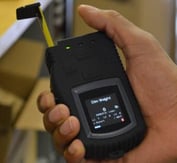 Are you looking for a faster, simpler way to calculate dimensional weights and shipping rates?
Are you incurring unexpected freight charges due to discrepancies between your dimensional measurements and your carriers' dim weight measurements?
Problem solved. Fast, accurate measurements are easy with Size-IT, ADSI's wireless, mobile dimensioning tool. Size-IT Calculates Accurate Dim Weights In Seconds Size-IT automates the process and generates accurate results in three easy steps.
Size-IT:
Digitally captures the length, width and height dimensions as your staff measures the package.

Auto-calculates the dimensional weight for both domestic and international shipments.

Can be configured to wirelessly transfer dimension calculations and package details to ADSI's order packing and shipping software solutions.
If you would like more information please contact BoxLogix Automation at 1-877-500-3241 or via e-mail Customer Support